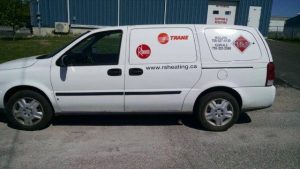 We have a fleet of 3 vehicles to serve the Midland-Penetang-Elmvale-Wasaga Beach-Tiny and Tay Township Areas
Services
We install forced air heating and cooling products, boiler systems with in floor heating, heat recovery ventilators, fireplaces and hot water heaters. We also install gas lines for generators, BBQ's, ranges and dryers. We are a registered TSSA contractor, HRAI member and are fully insured and licensed.
References and referrals
We know word -of-mouth goes a long way, so we try to treat every job as it is our own house and do the best job possible. So at the end of the day, the customer is not only happy but will also refer us to their friends. If you require a free estimate for any work required, please contact us at the numbers above.
SCOTT'S R & S HEATING SYSTEMS INC. has been affiliated with very reputable builders in the area; such as Meadowland Construction, Quality Contracting, Dave Campetelli and The Beswick Group

History of Scott's R & S Heating
R & S HEATING SYSTEMS INC. relocated from Collingwood to Midland in 1993.
R & S HEATING SYSTEMS INC. was an authorized Consumers Gas contractor for the next 2 years and then became an authorized installing contractor/dealer for another 3 years. When Consumers Gas changed to Enbridge, R & S Heating became the after hours service contractor/dealer from 1999-2001. Enbridge then discontinued the contractor/dealer network throughout their company allowing us to concentrate more on our own customers.
In 2000, we purchased Scott's Heating in Elmvale broadening our area to encompass Elmvale, Wasaga Beach and Collingwood. We are located at 527 Bay Street, Midland, where we have been located for the last 17 years. This is a family business and my wife Sally, myself and our 2 children now live in Penetanguishene. We have been involved with the Huronia Soccer Club for many years.
Ron Docherty, Owner